So you have found the perfect gift for someone special in your life, now it's time to think about its presentation. You have decided that instead of using wrapping paper or a gift bag, you're going with a gift box instead. A gift box adds a little bit more uniqueness to your gift, and it is typically a big hit with any gift recipient.
If you really want to make your gift stand out, there are multiple ways to enhance gift boxes in Kansas City. In this article, we'll discuss how to add some extra style and flair to your gift. Many of these gift-wrapping and presentation solutions are available when you contact our team at Jim Allen Packaging.
Think of a Theme for Your Gift and Gift Boxes in Kansas City
Most events or parties that you attend will be centered around a specific theme. Your gift box should also follow that same theme. With each theme, there are specific colors that are used, and your gift box can reflect those same colors.
If your party's theme is a baby shower for someone having a girl, you can accent your gift with pink ribbons and bows in Kansas City. On the other hand, if the shower is for a baby boy, you can switch the gift box accents to blue. You can also use appropriately colored tissue paper in Kansas City to help conceal the gift that's in the box.
Consider Who the Gift is For
It is always important to create a design based on who the gift is for. If you are presenting a gift to a good friend, and you know their favorite colors are red and yellow, then look for different gift boxes in Kansas City that reflect these colors. If you can't find the right gift box, then just get a white gift box but add red and white accents to really make the gift stand out.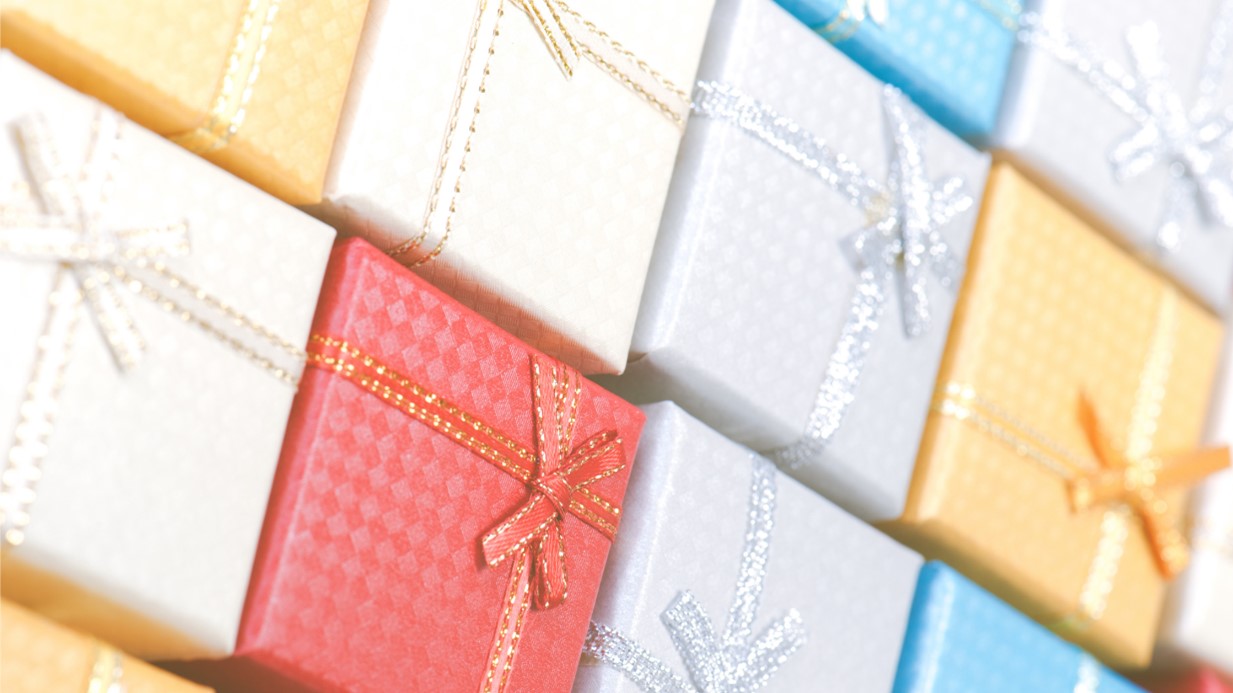 Think Seasonal
Keep in mind what the colors of the season are, and use that when you work on your gift's presentation. Now that we are approaching the holiday season, a green gift box is the perfect choice. Then complement your box by finding some gorgeous red ribbons and bows in Kansas City.
Keep specific colors in mind for other holidays as well, such as:
Valentine's Day: Red, Pink, and White
4th of July: Red, White, and Blue
Halloween: Orange and Yellow
Thanksgiving: Fall colors like Yellow, Orange, and Brown

Contact Jim Allen Packaging for All Your Gift-Wrapping Accessories
No matter how big or small your order is, Jim Allen Packaging can provide the perfect gift wrapping and gift packaging solutions. Whether it's wrapping paper, tissue paper, gift bags, or jewelry gift boxes in Kansas City, we have it all covered.
We also provide items like shopping bags, to go bags, and food service takeout boxes in Kansas City. Jim Allen Packaging offers a wide variety of products to fit many people's needs. To place your order, give us a call today at (620) 431-7815.
We look forward to doing business with you!
When you work with Jim Allen Packaging, you'll have an experienced, full-time retail packing distributor by your side. We supply various bags, including paper shopping bags, and plastic bags in Kansas City.
We also offer beautiful gift-wrapping supplies like gift wrap and tissue paper, along with our amazing ribbons and bows in Kansas City.  We've got it all covered.
Don't forget about us if you work in the restaurant or food industry too! We have a wide selection of food service bags, take out bags, and to go bags in Kansas City. We offer all the right supplies to keep your restaurant, bakery, deli, or specialty food shop booming!
We thank you for reading this article, and hope you reach out to our friendly team at Jim Allen Packaging for all your packaging and gift-wrapping needs in Kansas City!